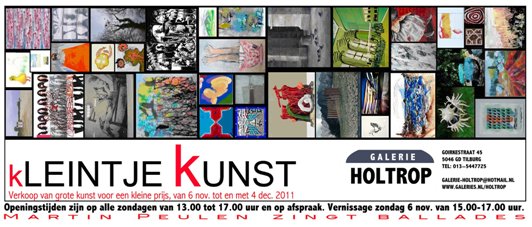 6.11.2011-4.12.2011
GALLERY HOLTROP (NL)
Small Works
Gallery Holtrop, Goirkestraat 45, 5046 GD Tilburg (NL)
EXHIBITION ART PROJECT more than 150 drawings, paintings, prints, lithos and photos by 40 artists.
Curated by Jozina Marina van Hees.
● ● ● ● ● ● ●
21.4.2011
AUCTION OF CONTEMPORARY ART IN PARIS (FR)
International sale of Modern and Contemporary painting, sculpture and photo
Salle V.V, 3 Rue Rossini, 75009 PARIS (FR)
Auction sale on the 21st of April at 14.00 hours, run by Master Bertrand Fraisse and Bertrand Jabot, auctioneers.
The painting of Van Ingen 'Starry Night with dreaming Strawberry' was chosen by Dominique Stal,
expert of Modern and Contemporary Art since 1986 in Paris.
Internet: www.gazette-drouot.com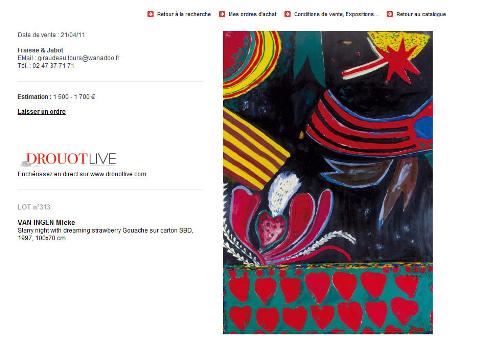 Painting 'Starry Night with dreaming Strawberry' is chosen and presented by Dominique Stal, expert in Paris.
LOT NO. 313 Gouache on paper, 1997, 100×70 cm, signed 'v Ingen-B'.
In the CATALOGUE on page 147.
Estimation: 1.500 – 1.700 €. Internet: www.drouotlive.com
The work is published in La Gazette Drouot. In the catalogue, lots 1 of 355.