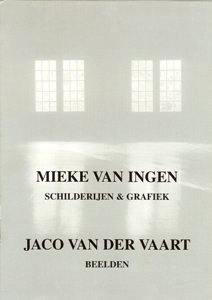 23.5.2004-4.7.2004
GALLERY CASTLE OF RHOON (NL)
Mieke van Ingen: painings on the theme of Architecture
Kasteel van Rhoon, Dorpsdijk 63, 3161 KD RHOON (NL)
Internet: www.hetkasteelvanrhoon.nl
DUO EXPOSITION
Large paintings and color graphics.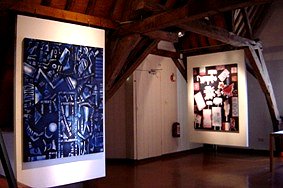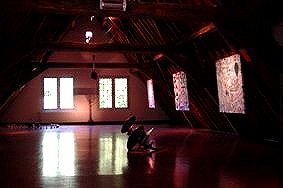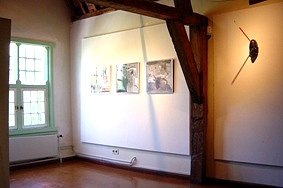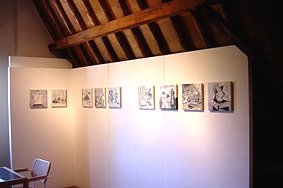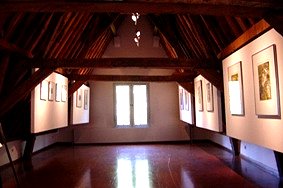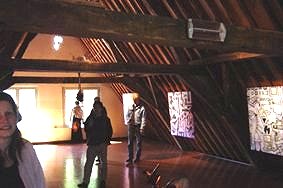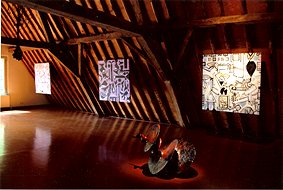 Exposition of Mieke van Ingen in Gallery Castle of Rhoon, the Netherlands.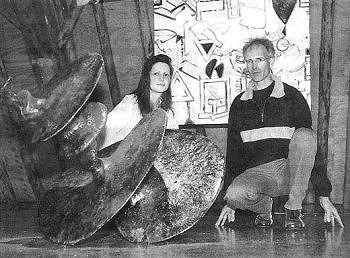 Exposition in Gallery Castle of Rhoon, Maasstad Newspaper, Rotterdam (NL), 22nd week 2004.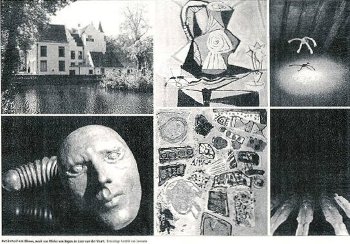 A strange voyage towards Rhoon, written by Hendrik VAN LEEUWEN, Journal Haagsche Courant, the Hague (NL), 19.6.2004.
● ● ● ● ● ● ●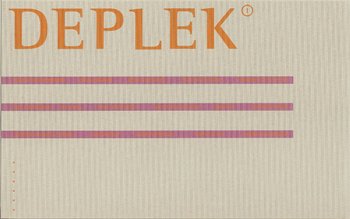 1.5.2002-9.6.2002
ART MANIFESTATION THE PLACE 1 (NL)
16 contemporary artists of the city of Delft present their work in unusual places.
Curated by George Degenhart, The City of Delft, Delft (NL)
Selection of 16 contemporary artists
For this Art Manifestation, Mieke van Ingen made 21 works of art on canvas of 50×50 cm.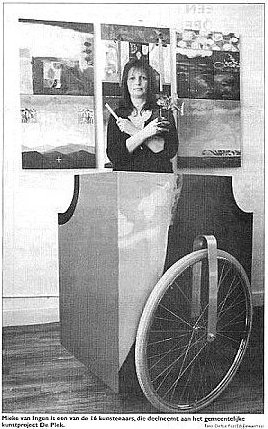 Mieke van Ingen furrows the Centre of Delft, written by Annelies VAN BODEGOM, Journal Delftse Post, Delft (NL), 1.5.2002.
● ● ● ● ● ● ●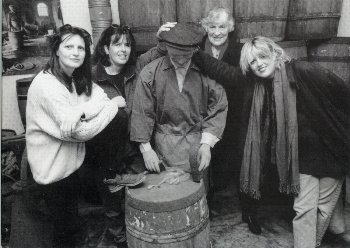 27.3.1999-8.5.1999
THE MUSEUM OF KATWIJK (NL)
Van Ingen, Bontenbal, Veldhuyzen and Van Efferink
Katwijks Museum, Voorstraat 56, 2225 ER Katwijk (NL)
Internet: www.katwijksmuseum.nl
GROUP EXPOSITION
Presentation of 4 artists showing paintings, prints and statues.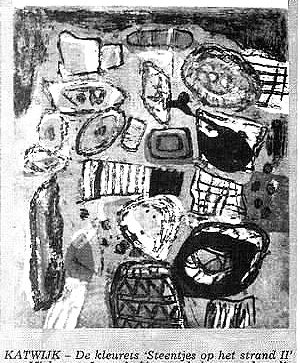 Little Stones on the Beach, Journal Zuid-Holland Post (NL), week 12 1999.