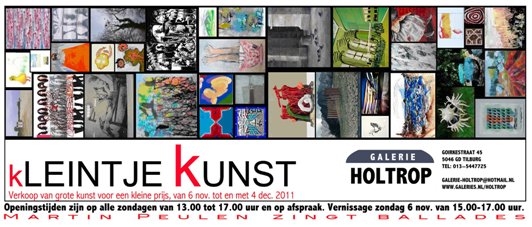 6.11.2011-4.12.2011
GALERIE HOLTROP (NL)
Kleintje Kunst
Galerie Holtrop, Goirkestraat 45, 5046 GD Tilburg (NL)
Veertig beroeps beeldende kunstenaars tonen klein werk tot 50×50 cm.
Curator Jozina Marina van Hees.
● ● ● ● ● ● ●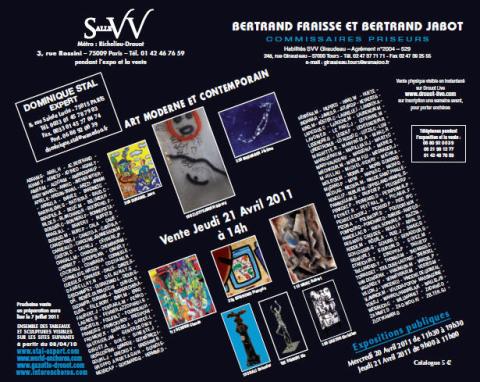 21.4.2011
KUNSTVEILING VAN MODERNE KUNST IN PARIJS (FR)
Internationale verkoop van Moderne en Hedendaagse schilderijen, beelden en foto's
Salle V.V, 3 Rue Rossini, 75009 PARIS (FR)
Veiling op 21 April 2011 om 14.00 uur door de veilingmeesters Bertrand Fraisse en Bertrand Jabot.
Het schilderij van Van Ingen 'Starry Night with dreaming Strawberry' is uitgekozen door Dominique Stal,
expert van Moderne en Hedendaagse Kunst, gevestigd sinds 1986 in Parijs.
Meer algemene informatie over de veiling en de catalogus is te vinden op:
Internet: www.gazette-drouot.com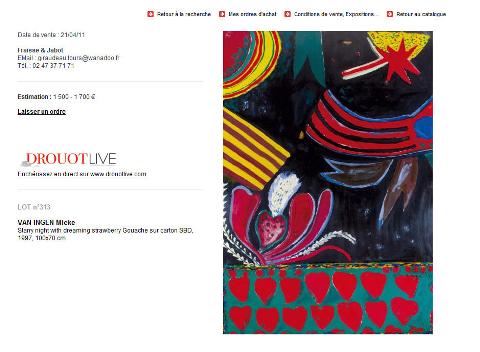 Het schilderij 'Starry Night with dreaming Strawberry.'
LOT NO. 313 Gouache op karton, 1997, 100×70 cm, ingelijst en gesigneerd 'v Ingen-B' rechts beneden.
In de online CATALOGUS is de gouache te vinden op pagina 147.
Richtprijs: 1.500 – 1.700 €. Om live te bieden op een veiling, klik op: www.drouotlive.com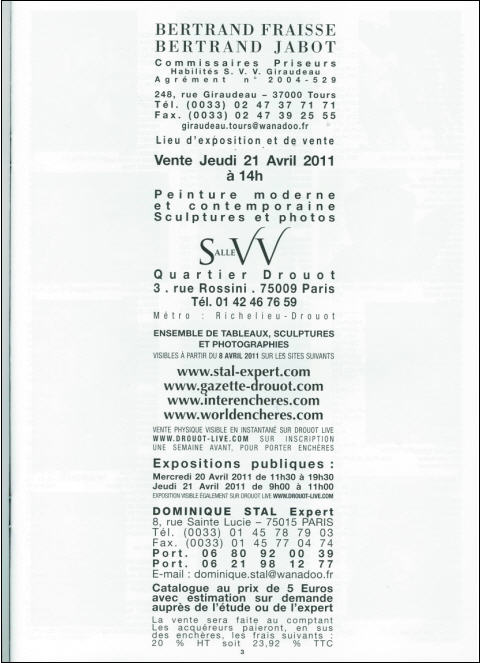 De informatie in de betreffende catalogus. De catalogus met lot nummers 1 tot 355.