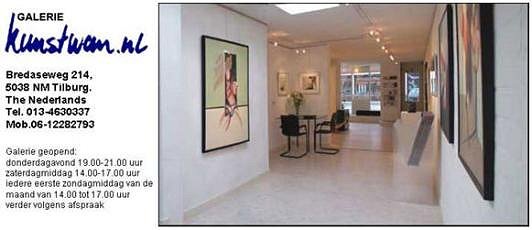 6.12.2009-30.1.2010
GALERIE KUNSTWAN (NL)
Onder de 100 #1: 2-dimensionale werken in passe-partout
Galerie Kunstwan, Bredaseweg 214, 5038 NM Tilburg (NL)
Internet: www.kunstwan.nl
TENTOONSTELLING Met meer dan 300 tekeningen, schilderingen, etsen, lithos and foto's door 60 kunstenaars.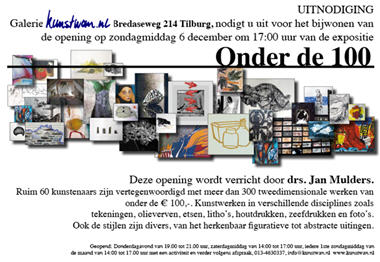 Uitnodiging van Galerie Kunstwan in Tilburg.
Meer dan 300 kunstwerken door 60 kunstenaars.
● ● ● ● ● ● ●
6.3.2009-29.3.2009
APW GALLERY NEW YORK (USA)
World of Imagination Vol.2: Square Foot Art Exhibition featuring over 2000 paintings
APW Gallery, 48-18 Van Dam Street, Long Island City, New York, NY 11101 (USA)
INTERNATIONAL ART PROJECT The exhibition will be the biggest square foot show in New York.
Artists from all over the world have submitted up to five pieces of 12″x 12″ or 30 x 30 cm paintings on canvas.
Jurors: Hans Yim, Kerry Lee.
APW Gallery, situated in NYC's Lower East Side, has done a number of shows and exhibitions housing artists
from all over NYC and the world. APW is a very diverse group and its shows showcase this diversity and style.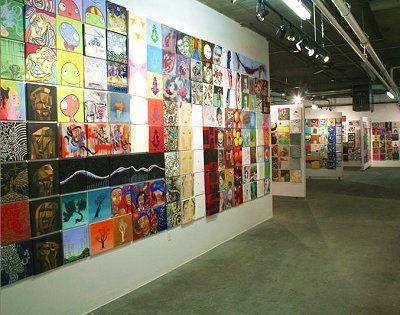 APW Gallery presenteert in 2009 de tentoonstelling World of Imagination: the biggest square foot show in New York.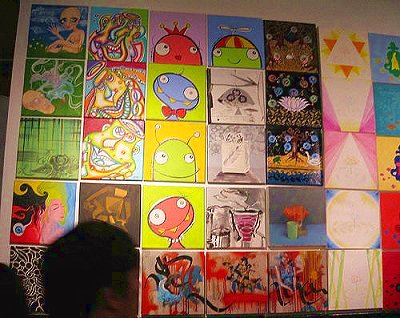 Drie schilderijen van de serie Of Beauty & Consolation nr.7, nr.10 en nr.11 in de collectie van APW Gallery (NYC, USA).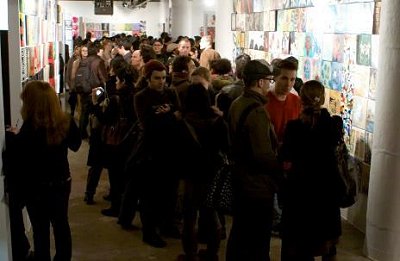 De opening van de expositie van World of Imagination is druk bezocht met enkele honderden bezoekers.